This Domain Name and website is owned and opperated by Kathy Anne Noble who is an author and Trans*


"Transfolk, don't hide away. Be proud, be bloody proud of who you are and what you have achieved. There are not too many that can lay claim to having lived as both sexes."


"In many cases when the bright light of opportunity presents, it is very likely extinguished by a thoughtless deed or comment."
( Kathy Anne Noble 12 May 2014 )
"Conformity is the jailer of freedom and the enemy of growth."
( John F. Kennedy - Address to the UN General Assembly-(25 September 1961.) -http://en.wikiquote.org/wiki/John_F._Kennedy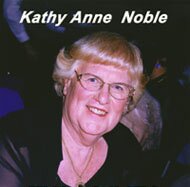 We regret to advise the sad passing of Kathy Anne Noble
Monday, 17th August, 2015, at age 81
Kathy was the author of this website, and the published author of "Two Lives: A Transsexual's story and the fight for recognition"; and a successful advocate of change in Australian laws for betterment of the lives of the transgender community. We have enormously enjoyed working with Kathy over several years, bringing you all sorts of relevant updates about the trans gender community, mostly in the section of this website titled "Kathy's Komments".
- Jenny Sharp & Chris Diprose, Website Managers of Changeling Aspects (These words published with permission of Kathy's family)
Welcome
The purpose of this website is to have a helpful focus on the condition known as "Transsexualism" - and many of the issues involved with the condition.
Transsexualism is also becoming more well known and accepted as:
Gender-Variance and/or Intersexed
With reference to this website, rather than Re-Inventing the wheel, we have attempted to do the hard work, and search the seemingly endless realms of the internet and provide here, in this Site, a précis of some of the more informative WebSites for your perusal.
We, of course, have our own opinions on matters and do share them throughout this Site, but for the most part, we will give you the opportunity to view numerous other Informative Sites to get a broad spectrum and balanced view of the subject.
---
Kathy Anne Noble's new book, 'Two Lives: A Transsexual's story and the fight for recognition' is now available.
Click here for more information
---
Due to circumstances and how we have developed, we have moved away from Agender New Zealand in order to become Changeling Aspects.
We are recognised now as Changeling Aspects for our approach. This is that we are now: a Teaching, Advocacy and Lobbying group.
We will however, still maintain, Agender-NSW, as Tanya has done too much work to promote it, to allow it to be dropped!
---
Changeling Aspects is NOT Closing down.
We are having to close or curtail certain services at present.
We have aimed at assisting people with Transsexualism before, during and after transitioning, offering education and support in many forms, for Transsexual people and partners, family, friends, health-care workers, etc.. . . . .
but, being self-funded and hopelessly under-resourced, we have finally extended ourselves beyond our capacity.
As from the 1st January 2007, Changeling Aspects can no longer continue to provide assistance as it has for a number of years now.
We will try to be of assistance at a personal level, as always, but we are unable to continue providing services that are available via Government services etc, which of course are "funded". We, as a self-funded, volunteer organisation are unable to continue with our Advocacy and Educational Programmes at the same levels as we have in the past.
We still, are able to assist individuals, as required, with advice and information, based on our own personal experiences.
We are, however, unable to continue with our Lobbying and Educational Programmes, due to insufficient numbers willing to participate in these areas.
We deeply regret that it has come to this, and acknowledge that there is still a great need for assistance out there.
We shall endeavour to continue to update & upgrade our "Changeling Aspects" website ( as a portal to useful information) for the foreseeable future.
---
Warning: This site contains adult concepts, but it is NOT of a pornographic nature, please be aware that despite this, some visitors may still be offended by what is depicted.
---
Disclaimer
Information and Services on this Site
The information contained in this Site is liable to change, and although Changeling Aspects makes every effort to keep material on this Site up to date and accurate, there may be delays, errors or omissions. Changeling Aspects does not represent or warrant the suitability, completeness, accuracy or currency of any information contained on this Site, nor that any services will be uninterrupted, timely, secure or error-free.
The material and information on this Site is provided for general guidance and is not intended to be advice. You should seek professional advice and assistance before you make any personal decisions or take any actions.
Links to Third Party Sites
For your convenience and information this Site contains links to other sites, e.g. "Links".
The "links to other sites" refers to Sites and information located worldwide throughout the Internet. The Links on this Site may include automatically generated and/or re-directed links, and/or references to objectionable material. The Linked Sites are not under the control of Changeling Aspects. Changeling Aspects makes no representation or warranty that the Links on this Site will not contain links and/or references to objectionable material or in relation to the accuracy or any other aspect of the information on the Linked Sites or contained in the Links on this Site .
Links or references to services, and/or another Site or the contents of, and/or services thereof, on this Site should NOT be construed as an endorsement or recommendation of any information, goods or services referred to in the Linked Sites or the Links on this Site.
Disclaimer of Liability
To the extent permitted by law, neither Changeling Aspects nor any of its related bodies or their respective officers will be liable in any way (including for negligence) for any loss, damage, cost or expense suffered or incurred by you or claims made against you through your use of this Site, the unavailability of this Site or in connection with any information offered or supplied through this Site.
---